Beverly M. Search, ARNP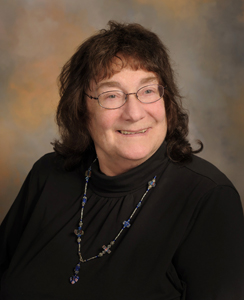 Beverly graduated from University of Redlands, in Southern California with a BA degree, and then was awarded a Masters Degree in Health Care Administration from Century University in Albuquerque, New Mexico. Her ARNP degree is from University of California, Davis (Sacramento) in family practice and she is certified to see both adults and children.
Among her work credits are 5 years at Kaiser Permanente in Longview, particularly treating injured workers. She then worked for 3 years at WorkPlace Wellness, for Peace Health, and then took a job at Castle Rock Pediatrics and Family Wellness. When the latter clinic was sold to PeaceHealth, Bev came to work at Kirkpatrick Family Care.
In her spare time, she raises show dogs and enjoys being out in the country on her 5 acres near Vader.