Dr. Toddrick Tookes
DPM, FACFOAM, AAPWCA, MBA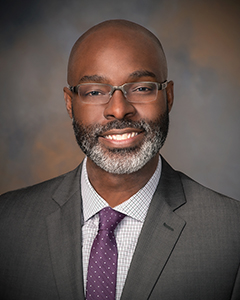 Dr. Tookes was educated at Valdosta State University for his undergraduate studies where he received his Bachelors of Science in Biology. After completing his undergraduate studies, Dr. Tookes went on to pursue his medical education at Barry University School of Podiatric Medicine, where he graduated with honor distinction in 2008. While in medical school, Dr. Tookes received numerous scholarships and accolades, which include achieving distinctions on the Dean's List, Presidents List, and earning acceptance into the prestigious "Pi Delta Honor Society". After medical school, Dr. Tookes went on to complete his 3-year Podiatric Medical & Surgical (PMS-36) residency at Our Lady of Lourdes Memorial Hospital in Binghamton, NY under the tutelage of Dr. Guido A. LaPorta.
Upon completion of his residency training in extensive forefoot and rear foot reconstructive surgery, Dr. Tookes accepted a position to practice in Central Georgia for a year before ultimately deciding to serve our country as a Lieutenant in the US Navy for 3 years. After serving in the Navy, Dr. Tookes moved to New Orleans to provide care for patients residing in the city and its surrounding areas for the past 3 years. During his time in New Orleans, Dr. Tookes attained his Masters of Business Administration (MBA) with a concentration in Healthcare from Auburn University. Dr. Tookes and his wife have now decided to make their home in Southwest Washington to join Kirkpatrick Family Care and work alongside Dr. Richard Kirkpatrick and staff.
Dr. Tookes holds board certification from the American Board of Podiatric Medicine and is a Fellow of the American College of Foot & Ankle Orthopedics & Medicine. Dr. Tookes has special interest in healthcare policy/administration, diabetic limb salvage & wound care, sports medicine, and dermatologic pathology of the foot and ankle.