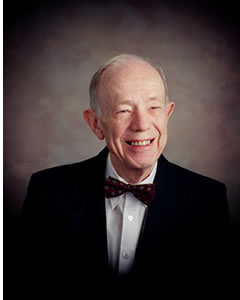 Neal R. Kirkpatrick, MD, FACP, FACC, FACCP, FACA, FICC, ABIM
Dr. Neal received his undergraduate and medical degrees from University of Wisconsin and thereafter went to Chicago's Evanston Hospital (Northwestern University) for an internship. He then worked for three months with his physician-cousin, Dick Edwards (who had inspired his pursuit of medicine ) in Richland Center prior to accepting an appointment to the surgery training program at Mayo Clinic. He later transferred from surgery to the Internal Medicine training program and was named a Senior Resident Associate.
After receiving his Masters in Medicine (thesis: National History of Aortic Aneurysm) from the University of Minnesota, he practiced briefly in Lincoln, Nebraska before accepting former Mayo colleague Dr. Fred Parke's offer to join him in Longview. Together, Fred and Neal were the area's first specialists.
Dr. Neal's 60 years of service to the patients, hospital, and community of Longview were interrupted by a two year stint in the US Air Force; Captain Kirkpatrick was Chief Medical Officer at the 5005th Air Force Hospital at Elmendorf AFB, near Anchorage from 1953-55.
In Longview, he served as Chief of Medicine, Chief of Staff, and Director of Medical Education at St. John's Hospital, and was very active in the Medical Society. During his career, he has been elected to Fellowship in five major medical organizations and has received 35 AMA Physicians Recognition Awards for continuing medical education.
Dr. Neal retired from his practice on July 5, 2007. He passed away on February 12, 2017 at the age of 97. His amazing example and influence on countless patients, local musicians and his family will be his legacy for many years to come. We will always miss him.