Dr. RIch Kirkpatrick -

The UW School of Medicine Alumni Association Distinguished Alumnus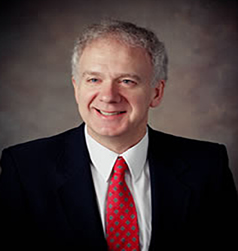 This award honors alumni whose professional achievements and cumulative contributions have brought personal distinction, enhanced the profession, improved the welfare of the general public and brought honor to their alma mater.
March 29, 2017 Announcement of the award
Rich was named the 2018 Washington State Internist of the Year by the Washington Chapter of the American College of Physicians.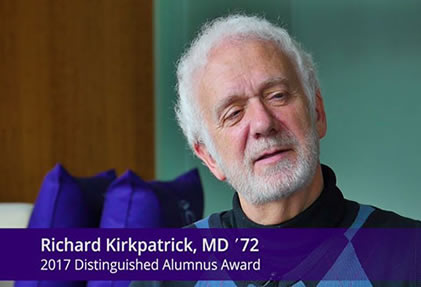 Click on the video to see a video from UW of Dr. Kirkpatrick reflecting back on his career.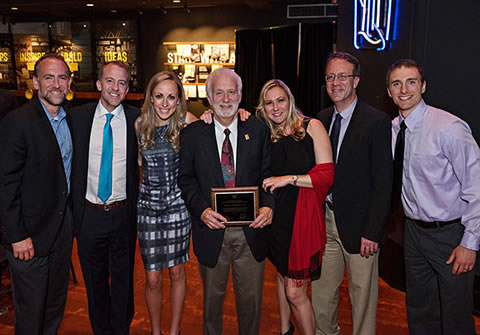 Dr. Kirkpatrick with his six children Ron, Dave, Christie, (Rich), Mary, Jim and Scotty at an event after the award.
Dr. Rich Kirkpatrick named 2018 Washington State Internist of the Year.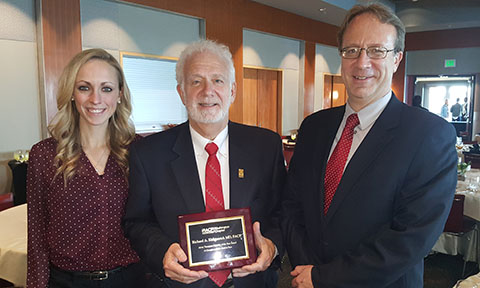 Dr. Rich Kirkpatrick with daughter Christie and oldest son, Dr. Jim (Professor of Medicine and Director of the Echocardiography lab at UW) is at the ACP Internist of the Year award event.
Rich Kirkpatrick, M.D. '72, has been in practice in Longview since 1976. The clinic has been open every day for the past 24 years. Dr. Kirkpatrick was recently honored as the Washington Chapter of the American College of Physicians as "Internist of the Year."
He is active as a sponsor and performer in many musical organizations in Longview and has been team doctor at Mark Morris HS and Lower Columbia College for 40 years. He served on the Longview City Council and Park Board for 12 years.
His eldest son Dr. Jim Kirkpatrick, is Professor of Cardiology and Director of Echocardiography at UW. His youngest son, Scotty, graduated from UWSOM in May and is a third year IM resident at the University of Colorado. Another son, David, is a UW alum now practicing Internal Medicine in Bend as a PA. His youngest daughter, Christie, is a 4th year medical student at WSU's Elson S. Floyd School of Medicine. These 3 are 3rd generation internists, following in the footsteps of their grandfather, Dr. Neal Kirkpatrick, who practiced in Longview for nearly 60 years and passed away in 2017.